Asian perm benefit and advantage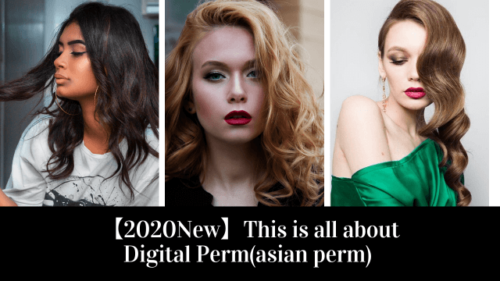 Digital perm(Asian perm) is one of popular hair service in the world.
If you are thinking about going to have it please read this article and it will help you to understand about Digital perm(asian perm)
What is an Asian perm?
A digital perm is a perm that uses electric rods with heat temperature control machine with a digital display.
Digital perm(asian perm) is invested in Korea more than 10 years ago and it getting popular in Japan and call it as hot perm.
Digital perm(asian perm) create a curl by perm solution and heating process and it make the curls lasting longer.
Now Digital perm(asian perm) is one of main hair service all over the world.
What is the difference between a cold perm and an asian perm?
All you have to know about the difference between cold perm and digital perm(asian perm) is result and process.
Cold perm is made a curl by only chemical solution and digital perm is made a curl by chemical solution with heating process.
Result is completely opposite both of them.
Cold perm is something like when hair is wet curl is come out and after dry it getting straighter and natural looking.
Digital perm is something like when hair is wet curl is weak and after dry curl is getting come out and become bouncy wave.
Is an Asian perm bad(damage) for your hair?
Digital perm(asian perm) is chemical process so that basically it damage hair.
Especially if you work with stylist who have less experienced for perm your hair will damage a lot.
But good hair stylist know that how to perm with less damage using pre treatment and control temperature for machines.
Unfortunately digital perm(asian perm) is not good combination with bleached hair.
In Japan they do digital perm (asian perm) with bleached hair because of their chemical is very weak and it is possible to make it wave with weak chemical solution.
Liscio Crystal Oil is Leave-In Hair Treatment prevents frizz caused by high humidity.
After use this your hair smooth and light texture .
Before you go out or after take a shower would be best time to use .
Can you perm Asian hair and Caucasian hair?
Asian hair
Asian hair is mostly straight so that people like to get perm so often.
Most of asian hair is ok with perm.
Basically asian hair is black so that it looks so heavy.
But after perm hair looks soft and lighter because of curls.
Using curling iron to make curl is very common in Asia but it still popular to digital perm(asian perm) at the hair salon every 6 month.
Caucasian hair
Caucasian hair is soft and thiner than asian hair.
Compare to asian hair,Caucasian hair was difficult to create a curl because of hair texture.
But now chemical quality is getting better and few stylists who have experienced with Caucasian hair can create nice wavy hair by digital perm(asian perm)
Stylists have to experience and know about knowledge of chemical skill for Caucasian hair otherwise it would be difficult to perm on caucasian hair.
How long does Asian Perm last ?
Base digital perm(asian perm) last up to six months.
But if your hair is colored, or damage hair wouldn't last long because of hair condition.
Lasting longer with healthy and strong hair.
| | |
| --- | --- |
| Healthy hair | 6 month and up |
| Colored hair | 3 to 6 month |
| Damage hair | 2 to 4 month |
Lasting of digital perm(asian perm)
Hair condition is most important things for digital perm(asian perm)
Even though Digital perm last longer than cold perm.
Will my Asian Perm get curlier after I wash it?
Washing hair right after perm is not good idea to last it long
Right after permed hair is not locked curl perfectly.
It takes 1 to 2 days for locking curl permanently.
Especially digital perm is special and you can control curl by styling your hair with hair driers .
As we mentioned that digital perm is something like when hair is wet curl is weak but after dry curl come out bouncy.
We don't recommend shampoo permed hair right after the process and if you like tight curl you can style by yourself.
Can you undo an asian perm?
If you want to undo the result of digital perm(asian perm) use shampoo right after perm.
Then put deep treatment on hair and leave it longer as keeping hair straight.
After wash curl become loose and if you keep combing hair straight curl getting looser little by little.
Do asian perm ruin your hair forever?
Digital perm(asian perm) won't damage your hair like fry hair by straightening and bleaching
But some of stylist fry hair by digital perm because of their poor skill and don't know about chemical knowledge.
Besides they don't have enough experience.
Basically after digital perm(asian perm) you can still color and redo perm again and wont damage too much.
Asian perm VS Cold perm?
The biggest difference between cold perms and an asian perm is the shape of curls and lasting.
Cold perm makes the wave obviously when the hair is wet, and loose when it is dry.
Besides digital perm last much longer than cold perm so it worth it .
Heating system by digital perm help the hair less damage and cold perm is only chemical solution so that it damage hair more than digital perm process .
How to maintenance Asian Perm hair?
Here are some tips that you had better to know while maintaining your digital permed hair at home.
After perm you should not try to comb through straight .
Each time after shampoo it better to finger through and keep the curl rough.
Moisturizing hair is very important to keep your curl nice.
Each time when you style your hair better to use cream or oil to hair shiny and permed hair getting dry easily so that you can keep nice curl with shiny looking
What product use for Asian perm?
We basically use Milbon products for digital perm service.
Their products are hight quality.
For 1st solution for digital perm we use this product .
This non-formaldehyde, thio-based solution allows for a variety of finishes from sleek to smooth and can be used for permanent straightening services – aka Japanese straightening – as well as less permanent smoothing services. Available to Liscio-certified stylists only.
All our stylists have Liscio-certified and be able to use this products for digital perm and straightening service as well.
we use this one as well .This is good for people have damage and dry hair.
Besides this products is liquid and easy to put it on hair.
Result would be shiny looking and soft texture.
This is our recommend product .
If you don't use any products for styling please try to use this one.
Japanese straightening and Asian perm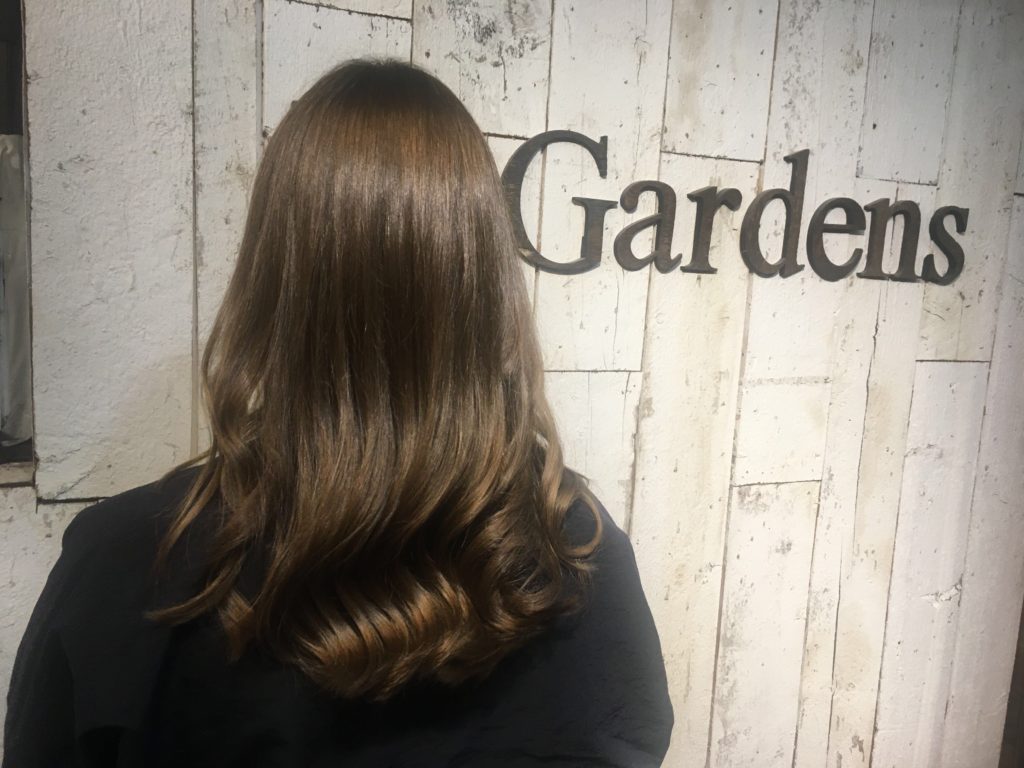 Digital perm (asian perm) and Japanese straightening is almost same hair process so that it possible to get Japanese straightening and Digital perm at the same time.
Mainly people try to make straight from roots to middle, and then get perm from middle to the ends.
This is popular for persons who have wavy hair and always get Japanese straightening.
Japanese straightening make hair super straight but some time customer ge bored having same straight hair so that they always want to have some curl and movement at the bottoms.
How much the cost of Asian perm
The price of having an Asian perm is depend on the hair salon
Some of hair salon charge difference price depend on hair length as well.
Basically hair cut and digital perm is set menu and price is included hair cut price as well.
Asian perm cost are
| | |
| --- | --- |
| New York(hair cut included ) | $150 to $300 |
| London(hair cut included ) | £150 to £250 |
| Tokyo(hair cut included ) | ¥8000 to ¥20000 |
Price(cost) of digital perm(asian perm)
Asian perm process
Before you get asian perm done there are something you have better to know about process.
Once you know about it you don't worry about each process during the digital perm service .
Shampoo
firstly shampoo and make hair clean. If hair is dirty or put some wax or cream it will affect to the result.
hair cut
After perm hair ends going up by curl so that leave the length longer and take out the weight .
If hair is too heavy curl wont come out nicely so thin it out also important process.
1st solution
Apply 1 st solution and put a chemical at the part where you like to get a curl.
Skip roos area and leave it 10 to 20 min depend on hair condition.
Then rinse out.
Winding
Before start winding, dry hair 50% and then start winding.
It help the process faster and less damage.
After winding ,set the heating cover all of rods and connect each rods to heating machine.
heating
Set up the temperature and time depend on strength of curl, and hair condition.
hight temperature and long time will damage hair so that low temperature and short time is better for hair.
2nd solution
After heating ,check the each rods is enough dry or not and apply 2nd solution.
All of hair is completely dry so that put it all of them properly.
Then leave it 5 to 10 min .
styling
For styling part ,firstly put some oil or cream to keep hair shiny and start dry all of hair with 80% .
After that twist hair to forward or reverse which ever you like.
At the end put some oil and finger through to the ends .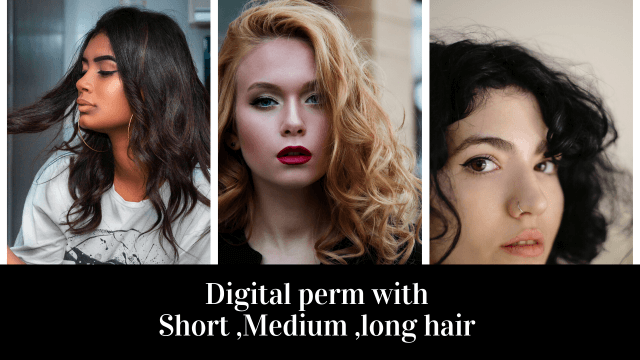 Asian Perm with short hair length
Basically Digital perm is good combination with long hair.
But if you have enough length to perm you can get it curl by digital perm.
Asian Perm with Medium hair length
Medium hair is difficult hair length to style so that digital perm is one of the option to grow hair out nicely.
Medium hair with curl looks casual and easy to maintain.
Asian Perm with long hair length
Most of people who have long hair try to get wavy hair or straight hair.
People try to get the one whichever they don't have it now.
Long hair with curl looks so gorgeous and elegant looking.
Asian Perm with men(male)
Men(male) with perm style is very popular in Asia.
Mens hair which is original straight hair become flat on the top and perm style help hair getting body on the top and looks soft.
Besides mens who have natural curl unevenly is better to have perm to have wave evenly and easy to style by themselves.
But digital perm is good with long or medium length so that if your hair is too short it would be difficult to digital perm.
In that case you can still get cold perm even your hair is short.
Asian Perm before and after pictures
Once you get digital perm you will never stop getting perm.
There are so many merit of Digital perm(asian perm) so that you will be one of them after you got nice one.
All you have to know about Asian Perm
Digital perm(asian perm) is very popular all over the world and you will like it once you got done.
People think that digital perm takes a lot of maintenance but it not .
You will get used to take care of hair easily and styling your hair by yourself everyday make you feel like enjoyable.
If you are in New York and thinking about going to have digital perm(Asian Perm) please come to T-gardens New York hair salon.
We are specialist for digital perm(asian perm) and many people coming our salon to get perm done.
We do Digital perm(asian perm) and cold perm(normal perm) as well so you can pick after consultation.
We have a log of experience working for wavy hair style and also working on asian and Caucasian hair too.
All our stylists are skilled and knowledgeable so that there is nothing to worry about.
Thank you for reading this article and hope this help you .
T-Gardens New York Hair Salon
328 E 59th St, New York, NY 10022
212-350-9970