The salon with a high reputation for Japanese straightening perm in NYC!
---
Japanese straightening perm makes easy to style=Save your time.
There is a 10% discount for returning clients within 6 months.
100% guarantee on the service within the two weeks after it was performed.
---
FREE CONSULTATION
If you have any questions or concerns, we can get you set up for a free consultation.
Make an appointment via email or phone call.
Please let us know in advance if you would like to receive the service on the same day as the consultation.
If it is difficult for you to come to the salon, please send us a picture of your hairstyle so we can review it.
Feel free to call: 212.350.9970
Send your picture to E-mail: tgardensny@gmail.com           
If you have had straight perms in the past and have not had any problems, you do not need a consultation.
---
For those who have never had Japanese straightening perm before
---
JAPANESE STRAIGHTENING Q&A
Q:What is the Japanese straightening perm?
A:Japanese straightening perm is the hair restructuring technology.
The whole process takes about three to four hours. (Depending on the length and amount of the hair)
Q:Does Japanese straightening perm contain the Formaldehyde?
A:NO it does not. Japanese straightening perm is Formaldehyde free.
---
Q:What are the benefits for Japanese hair straightening?
A:
・It remove the frizz and makes easier to manage your hair.
・It reduces the time it takes to dry your hair and makes it smooth and shiny even on humid days.
・Volume will be reduced and the hair will become more manageable.
---
Q:What are the risk for Japanese hair straightening?
A:
・If the stylist doesn't have enough experience and knowledge, it can cause serious damage to the hair. Be especially careful with dyed hair. The most difficult process is to choose the right chemical solution.
If you use a solution that is too strong, your hair will become dry, or if
you use a solution that is too weak, it will remain frizzy.
・Once a client gets a straight perm, it's hard to go back to curly hair.
・It is difficult to create soft hair texture with short hair.
・It's hard to get the volume especially for the first two weeks.
---
Q: I've had my hair straightened several times and the ends are dry, but I want to keep the length and get a straightening perm.
A: It's good to use Keratin treatment together when applying Japanese straightening perm.
・The keratin treatment coats the hair that the straightening perm has straightened, making it smoother and shinier.
 Japanese straightening + keratin treatment + $200 to $250
---
Q:How long does the effect of Japanese straightening perm last?
A:It lasts about 6 to 8 months.
For hair that is slightly frizzy or has large curls, the effect lasts for 8 months to 1 year.
The effect of a straight perm is permanent, so it is usually only retouched for returning clients.
---
Q:How much does it cost?
T-Gardens NY
Depending on the stylist.Click and check the price.
 $330 to $450 (within 6 month 10% off) 
---
Q: What will you do after the second time?
A: Because the effect of Japanese straightening perm works permanently we will retouch the new growth.
Sometimes, the frizz comes back in the part that was straightened last time. When that happens, we may straighten the whole hair again. Please ask your stylist for details.
---
Q:Do I have to use special shampoo and treatment?
A: You can use any shampoo/treatment you want.
If you prefer, we can also sell you shampoo and treatment suitable for Japanese straightening perms.
---
Q: Can I curl my hair after getting Japanese straightening perm?
A: Two days after the service, you can curl your hair using a curling iron.
---
Q: What is the difference between Japanese and Keratin(Brazilian) hair straightening?
A: Japanese hair straightening changes the internal bond of hair. Keratin(Brazilian) hair straightening only smooth out the cuticle so the effect of Japanese straightening perm lasts permanently while the effect of
Keratin(Brazilian) straightening perm lasts only for 2 weeks-4months.
and also Brazilian straightening perm requires a special shampoo/conditioner, but Japanese
straightening perm does not.
---
Q: Is it possible to straighten highlighted/bleached hair?
A:It depends on the hair condition. Consultation needed.
If it is hard to visit the salon, please send us the picture of your hair with air dry.
E-mail:  tgardensny@gmail.com
---
Q: Is there anything I should take care of after the service?
A: Don't use shampoo and rubber band for 48 hours after the service as the chemical reaction is still in progress.
---
WHICH PRODUCTS DOES T-GARDENS NY HAIR SALON USE?
We use Milbon Liscio Thermal Reconditioning.
Milbon is one of the most trusted brands in Japan.
If your hair gets wet, blow-dry it using a downward direction and gently comb it well.
Do not use hair clips or barrettes, do not tie your hair into a ponytail.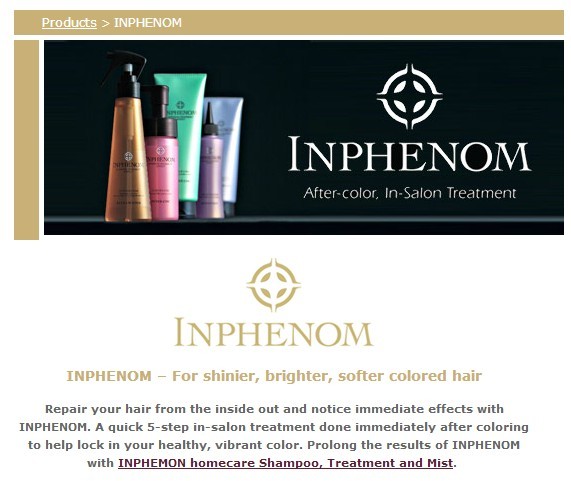 In-salon treatment is included in Japanese straightening perm and digital perm.
Inphenom
Great for fine hair.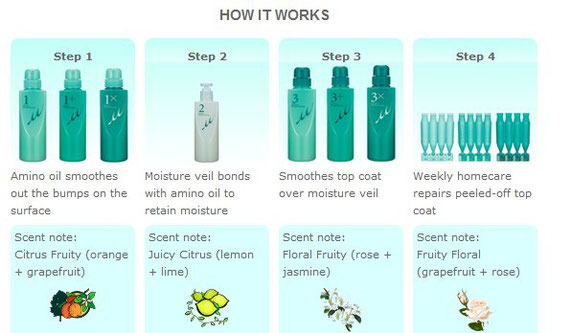 Linkage
This in-salon treatment is for coarse hair.
Make the hair shiny and smooth.
Milbon Liscio Thermal Reconditoning
Make an appointment online or call 212.350.9970